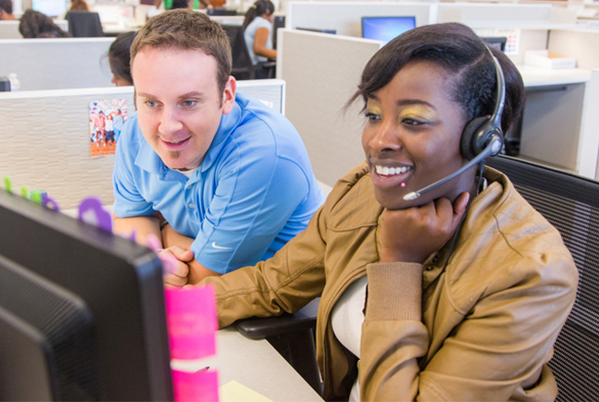 From Good to Great: 3 Ways to Improve Your Call Center
Your call center is working pretty well, right? Sure you've got some employee turnover, and–like any business unit–your fair share of fires to put out, "people problems", and some strategic missteps while adapting to a dynamic market and service environment… but even with all that, you're successful. It's working. Which is awesome.
But, of course, you want it to be better. You want a better a better customer experience. You want a better employee experience. A better management experience. And yes, better results on the bottom line.
So, without messing up anything that's currently working, how can you level up? Well, there is any number of gaps/opportunities in your system, and we'd love to show you precisely what those are, but without being able to take a closer look at your specific situation, here are a few immediately actionable ideas to consider:
(1) Reduce Hold Time & Call Abandonment with Queued Call Backs  
Making it convenient for customers to receive a call back instead of waiting on hold boosts the customer experience, demonstrating that you value their time.  In a world where people have grown accustomed to spending hours on hold while listening to repeated recordings about how "important" they are, having your system actually demonstrate that thoughtfulness and ease of use creates a marked experience of service and  care. Also, given that experience, they are more likely to be in a better mood when speaking to your employees, yielding better experiences on both sides and more productive conversations. 
(2) Keep Your Customers Engaged and Informed with Music on Hold and Queued Called Messages
Changing up the music on hold regularly and recording custom greetings specific to your business allows customers to learn about products, services and promotions, while breaking up the monotony in the waiting.  Communicating the approximate hold time and letting customers know where they are in line (2nd call in queue, etc.) reduces the stress of not knowing when they'll speak to someone and shows that you value their time waiting. And of course, that's only if they haven't opted for a convenient Call Back!
(2) Manage What Matters & Engage The Team with Real Time Statistics
Agent Dashboards and Wallboards allow everyone on your team to have a pulse on the status and productivity of the calls.  How many calls are holding and for how long? How many calls are each employee taking per day? Measurable results show just how effective your business is at achieving its goals and you'll also be able to easily monitor your employees at any given time.  It also gives your managers and employees real-time insight into team and individual performance, identifying peak times and staffing appropriately, increasing employee morale and improving customer experience.
So while this list is obviously not even close to comprehensive, and perhaps you're already using some of these tools, it's a good place to start if you're looking to up your game overall. And if your current system doesn't allow you to start doing any of these things, or do them in a way that's easy to manage, then yes you want to start looking at some new options. Until then, try these out and let us know how it goes and how we can help–that's what we're here for.